Canceled 5/29/23 2:45 PM
Flash Flood Warning issued May 29 at 12:07PM EDT until May 29 at 2:45PM EDT by NWS Blacksburg VA
At 1207 PM EDT, Doppler radar indicated that between 2.5 and nearly 4 inches of rain fell earlier this morning. Flash flooding continues across large portions of the Mercer County, as well as for eastern Tazewell County. Numerous roads are flooded and impassible, with multiple water rescues taking place. Multiple homes and businesses are also flooded. As of noon, the Bluestone River at Falls Mills has risen just above 10.9 feet, which is likely the highest water level in the history of this river gage.
HAZARD...Flash flooding caused by thunderstorms.
SOURCE...Law enforcement reported.
IMPACT...Flash flooding of small creeks and streams, urban areas, highways, streets and underpasses as well as other poor drainage and low-lying areas.
Some locations that will experience flash flooding include...
Bluefield... Princeton...
Rocky Gap... Camp Creek...
Pocahontas... Bramwell...
This includes the following locations...
Mercer County Airport.
This includes the following streams and drainages...
Bluestone River, Blacklick Creek, Bratton Branch, Brush Creek, Big Spring Branch and Beaver Branch.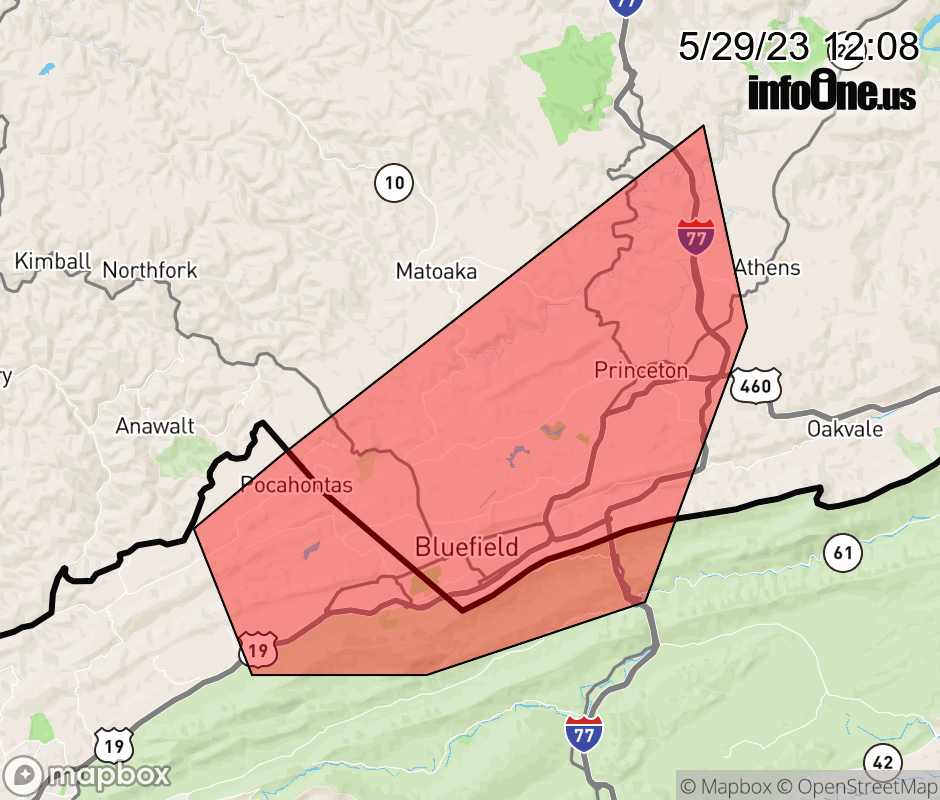 Why aren't you using the InfoOne app?
Stay abreast of information affecting your community! InfoOne tracks real-time information such as:
Weather Alerts
Car accidents and major traffic issues
Power outages
Missing and runaway children, Amber Alerts
Earthquakes
School closings and delays
Local news
InfoOne currently supports over 100 communities in NC, VA and WV, and our coverage area is steadily growing.
It's free! Install the InfoOne app today and see what you've been missing.